March 20, 2019
To change settings for your Cloud Voice phone from the mobile app, click the three lines at the top left-hand corner. Then, click "Call Settings" and select the feature you wish to change (see below for a list of features and descriptions).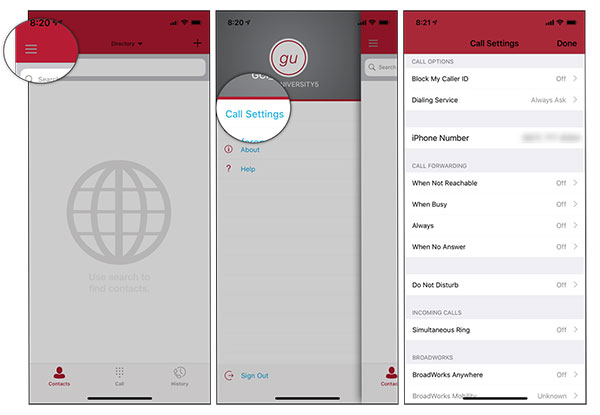 Note: All features are turned on or off by moving the slider to the left or right.
What features can be changed from the app?
Block My Caller ID: Use this feature to hide the number you are calling from when making outbound calls. Note: Some people may have Anonymous Call Rejection (ACR) services, which means their phone can refuse calls from "blocked numbers." A line with ACR will not receive calls from a line with Block My Caller ID on.
Call Forwarding: You can turn call forwarding on or off for a variety of situations, including when not reachable, when busy, always and when no answer. To activate the features, just move the slider to the right and enter the number you wish to forward calls to.
Do Not Disturb: When this feature is turned on, all calls will be forwarded to voicemail.
Simultaneous Ring: The features allows you to create "locations" (other numbers) and have them ring when receiving a call on your work phone.
Call Pull in the GCI Cloud Voice app
Call Pull allows you to seamlessly transfer a call from your Cloud Voice desk phone to a mobile phone without interruption. Note: Call Pull will not work if you are already on a mobile call.
To use Call Pull:
To pull a call from another device into the GCI Cloud Voice app, tap  "Call," tap , and select "Pull Call."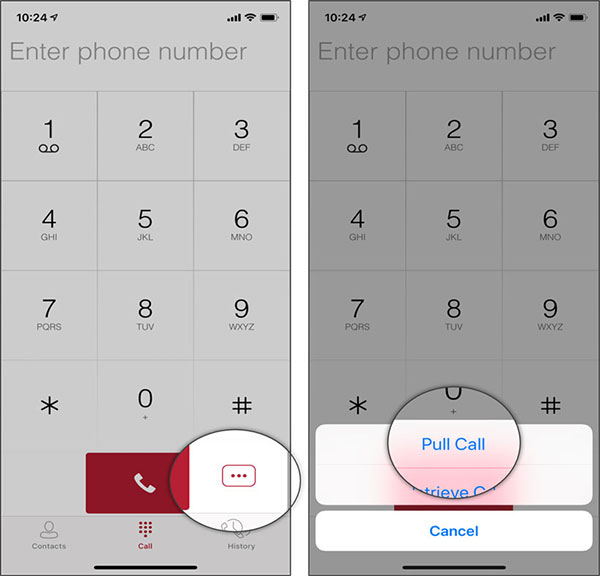 Call Retrieve in the GCI Cloud Voice app
Call Retrieve allows you to retrieve a parked call from your GCI Cloud Voice app easily from your phone.
To use Call Retrieve:
From the Dial Pad, tap , then select "Retrieve Call." Follow the voice prompts to retrieve the parked call.