October 24, 2016
ANCHORAGE, ALASKA – GCI, Alaska's largest telecommunications provider, today unveiled a new look for its company logo—a logo that after 30 years is getting an update, but remains true to its origins as one of Alaska's most recognized brands.
The updated logo and accompanying branding campaign reflects GCI's focus on remaining a leader in Alaska residential and commercial telecommunications services while expanding its business model to include customers in the Pacific Northwest and beyond.
"The new logo honors GCI's long history of service in Alaska while still remaining firmly focused on the future," said President and CEO Ron Duncan. "GCI is proud to have been blazing trails through Alaska since 1979 and we look forward breaking into new frontiers in the coming years as we continue to grow our managed technology solutions. At GCI we know there is no limit to what our customers can accomplish, and we're here to connect them with some of the most advanced technology available, regardless of where their adventures take them."
The updated GCI logo was designed with a focus on mobile and online environments in order to be responsive to the always-evolving digital world.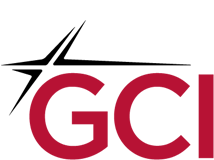 Beginning Monday, Oct. 24 customers will begin to see the new GCI logo on the company website and other properties throughout Alaska and the Pacific Northwest. The new brand identity will also be seen at one of Alaska's biggest celebrations, the upcoming GCI Great Alaska Shootout. To learn more about GCI and its services, visit GCI.com.
About GCI
GCI delivers communication and technology services in the consumer and business markets. Headquartered in Alaska with additional locations in the U.S., GCI has delivered services for more than 35 years to some of the most remote communities and in some of the most challenging conditions in North America. Learn more about GCI at www.gci.com.

Media contact:
Heather Handyside
GCI, Director of Corporate Communications
907-301-3481 cell | hhandyside@gci.com