November 21, 2016
Pidgeon recognized by Cablefax: The Magazine for strategic leadership in its annual power
ANCHORAGE, ALASKA – GCI's Tina Pidgeon has been named one of Cablefax: The Magazine's 2016 "Most Powerful Women in Cable." The list honors women who are driving innovation at the companies where they work and for the cable industry as a whole. 
As general counsel, senior vice president of governmental affairs and chief compliance officer, Pidgeon is a member of GCI's eight-person executive team and has helped position the company as a leader in the telecommunications industry. Pidgeon oversees all of GCI's legal, policy and advocacy strategies and manages a department of 25 employees who are responsible for the company's contract negotiations, regulatory efforts and compliance programs.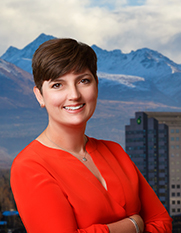 Known for being a creative and pragmatic decision-maker, Pidgeon also serves as an advocate for her coworkers. She is the founding executive member and visionary behind the GCI Women's Network (GWeN), a forum for peer-to-peer networking, training and discussion for GCI employees. Now entering its second year, the group has held monthly GWeN Gatherings, featuring speakers on a variety of topics that focus on personal and professional advancement. The group also hosts bimonthly TED Talk-inspired GWeN Talks that include workshops presented by GCI employees in their respective areas of expertise. The workshops provide employees the opportunity to share and learn from their peers as well as enhance their public speaking skills. GWeN also hosts networking events and will soon launch an official mentorship program, providing employees with additional opportunities to learn and grow at GCI.
Pidgeon has more than 20 years of experience in the cable industry and is a member of Women in Cable Telecommunications and the Federal Communications Bar Association. She joined GCI in 2003 after practicing law with the firm Drinker Biddle, where she represented clients, including GCI, before the FCC and state regulatory commissions.
Cablefax: The Magazine is one of the leading trade publications covering the industry. Visit for more information on its 2016 list of cable's most powerful women.
About GCI
GCI delivers communication and technology services in the consumer and business markets. Headquartered in Alaska with additional locations in the U.S., GCI has delivered services for more than 35 years to some of the most remote communities and in some of the most challenging conditions in North America. Learn more about GCI at www.gci.com.
Media contact:
Heather Handyside, GCI
907-301-3481, hhandyside@gci.com