April 12, 2017
ANCHORAGE, Alaska — GCI presented the Kotzebue Volunteer Fire Department with a $5,000 donation yesterday for the purchase of lifesaving equipment, a high-performance CPR device called the Lucas Device.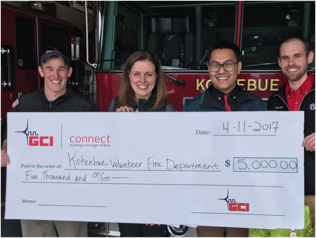 When CPR is necessary, the Lucas Device performs life-sustaining circulation through uninterrupted chest compressions, a more effective method of CPR than manual chest compressions. The Lucas Device can increase the chance of spontaneous circulation to 30-35 percent.
"The GCI team is pleased to make a donation toward this lifesaving equipment for the fire department and community of Kotzebue," said Heather Handyside, GCI senior director of corporate communications.
The Kotzebue Volunteer Fire Department is still accepting donations for the Lucas Device and other lifesaving equipment. For more information, contact the department at 907-442-3404.
About GCI
GCI delivers communication and technology services in the consumer and business markets. Headquartered in Alaska with additional locations in the U.S., GCI has delivered services for more than 35 years to some of the most remote communities and in some of the most challenging conditions in North America. Learn more about GCI at www.GCI.com.
Media contact:
Heather Handyside, GCI
907-301-3481
hhandyside@gci.com