April 13, 2017
ANCHORAGE, Alaska—GCI presented the Bethel Search and Rescue with a $5,000 donation yesterday, which will help support the organization's life-saving search and rescue missions in Bethel and surrounding villages. Bethel Search and Rescue works tirelessly to help the people of Bethel stay safe," said Bob Walsh, GCI director of rural broadband development. "As a former member of the Nome Search and Rescue Team, I know how important these kind of donations are. This is just another part of GCI's ongoing commitment to the communities in which we live and serve."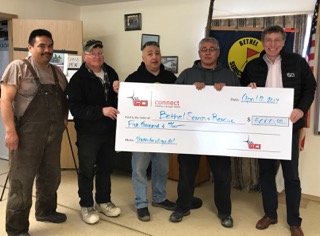 GCI's Greg Chapados (right) presents $5,000 donation to Bethel S&R team.

The Bethel Search and Rescue team is an all-volunteer group, consisting of roughly 60 male and female volunteers who respond to calls for help concerning missing persons in the Bethel area and the villages that surround it. It conducts these life-saving search and rescue missions in coordination with the Alaska State Troopers, Civil Air Patrol, City of Bethel Police, Village Police Safety Officers as well as other search and rescue teams in nearby villages. For more information on Bethel Search and Rescue emergency services and current search efforts, visit www.BethelSAR.org.
About GCI
GCI delivers communication and technology services in the consumer and business markets. Headquartered in Alaska with additional locations in the U.S., GCI has delivered services for more than 35 years to some of the most remote communities and in some of the most challenging conditions in North America. Learn more about GCI at www.gci.com.
Media contact
Heather Handyside
GCI 907-301-3481
hhandyside@gci.com