July 14, 2017
ANCHORAGE, ALASKA – Today, Alaska's largest telecom company GCI announced the launch of 4G LTE wireless service in Kincaid Park through a brand new, hidden cell tower. Disguised as a spruce tree, the tower fits in seamlessly among the park's 14,000-acre landscape. The tower brings long-awaited wireless service to park goers and is one of only three "stealth" towers in Anchorage.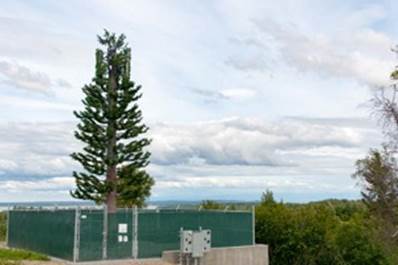 "At GCI, we know how important safety and connectivity is to adventure-seeking Alaskans, and we are proud to put Kincaid Park on the coverage map," said Paul Landes, GCI senior vice president of consumer services. "This stealth tower has been years in the making and is an example of GCI's ongoing commitment to keeping Alaskans connected."
The 45-foot cell tower will deliver vastly improved voice and data services to Kincaid Park trails and facilities. GCI customers with 4G LTE wireless service will automatically have access to these improved services. Everyone—no matter what their wireless carrier is—will have the ability to make 911 emergency calls in the 14,000-acre park thanks to GCI. 
Landes was joined by Mayor Ethan Berkowitz and Anchorage Fire Department Chief Denis LeBlanc at a press conference today celebrating the launch. According to LeBlanc, the expansive recreation park has presented a major challenge when responding to 911 calls due to limited cellphone service in the past. GCI expanding wireless service in the park means visitors can now contact emergency services right away and receive quicker response times than has been accessible for many years. 
Since 1979, GCI has invested over $3 billion to bring the latest telecommunication technologies to Alaska, reflecting GCI's ongoing commitment to the innovation Alaska needs to support industry, education, safety, livability and more for today and the future. 
About GCI
GCI delivers communication and technology services in the consumer and business markets. Headquartered in Alaska with additional locations in the U.S., GCI has delivered services for more than 35 years to some of the most remote communities and in some of the most challenging conditions in North America. Learn more about GCI at www.gci.com.
Media contact:
Heather Handyside, GCI
907-301-3481, hhandyside@gci.com