December 30, 2022
Here is an example of what your bill might look like. On the top right of the bill you will see an organized view of the services that you have, as well as any discounts you receive each month. Check out the image below for more tips and details about your GCI bill.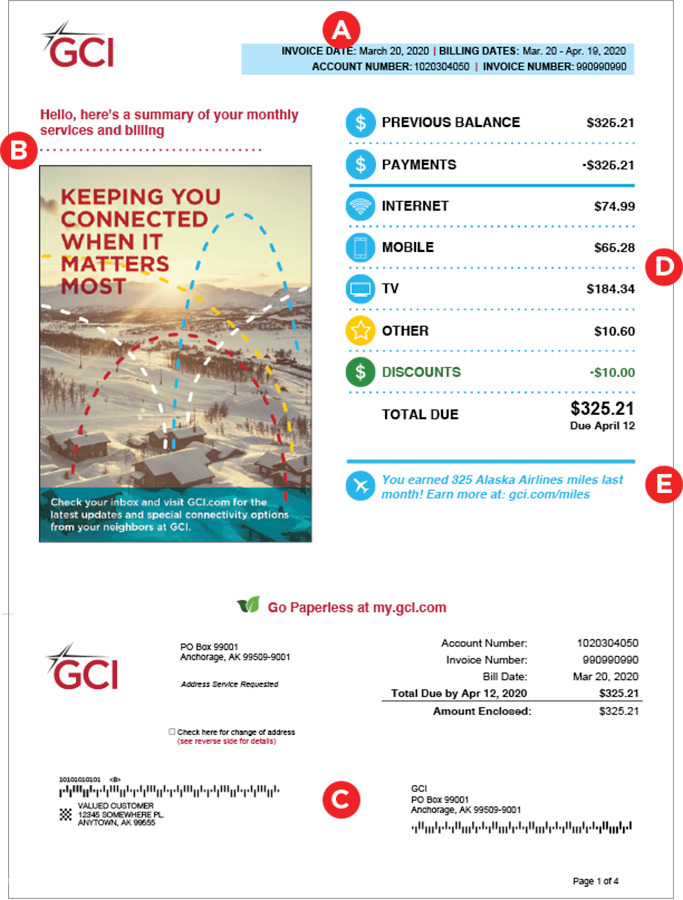 A. Invoice Information
This section provides you with your account number, billing, and due date information. 
Note: your account number has changed. Please update any online bill payments or the payment methods where you must list your account number, such as your financial institution. 
B. Important Messages
Look here for important information, special offers, new services, or other reminders from GCI. 
C. Payment Slip
If making a payment by mail, include this tear off slip. 
D. Summary of Charges
This section lists all services you receive from GCI and their corresponding charges. It also includes all taxes applied.
If this is your first invoice, it may include prorated charges for more than on full month and one-time charges for activation,
making it higher than future invoices. 
  Note: prices listed are for example purposes only. They do not reflect an exact bill. 
E. Alaska Airlines Mileage Program
Here is where you will find how many Alaska Airlines miles you earned for paying your bill on time.
Make sure your mileage plan number is connected to your GCI account so you start earning one mile for every dollar spent at GCI.